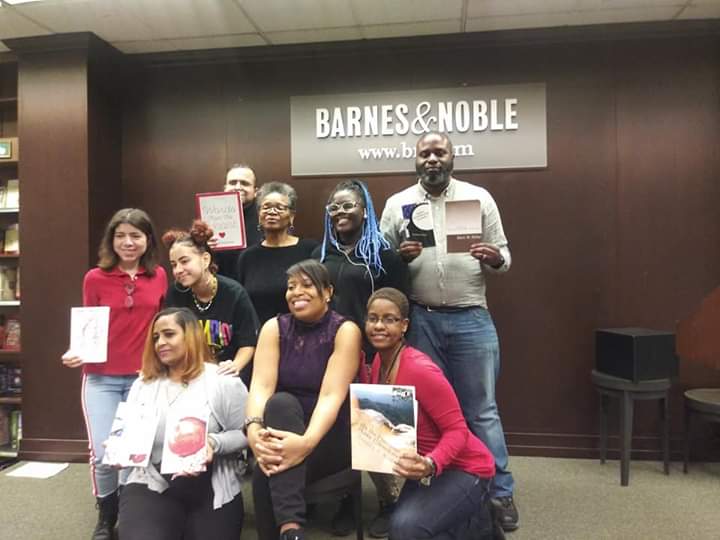 By Marc W. Polite
On Friday, December 7th, 2018 Frederick Douglass Academy hosted a Poetry Slam at the Barnes and Noble on 82nd street and Broadway. Held from 6pm to 8pm, it featured published poets, unpublished poets, and student participants alike. Open to all who respected the rules of no profanity, racial slurs or sexist remarks, the FDA Poetry Slam was an expressive and supportive environment.
This event was hosted by author and educator, Angela Williamson. In addition to being the mistress of ceremonies, she participated by reading a great poem from her forthcoming poetry book New York City Rhymes, Quotes, and Chimes. Coming 2019.
Guest poets present included Keisha Molby-Baez, author of Tears Laced with Fire and A Little bit of Sugar, Taneeka L. Wilder, author of On the Precipice of Love Illuminated, Aly D. Poems, author of Short Circuit: An Epileptic Journey, and Marc W. Polite, author of Poetic Ruminations of Mr. Born Nice and Poetic Ruminations: Volume 2.
(Left to right) Marc Polite, Taneeka Wilder, Angela Williamson, and Keisha Molby-Baez at FDA Poetry Slam December 2018
As part of the Open Mic portion of the session, some performers I hadn't previously heard came through. I had the chance to hear James Dean Rivera author of Words from the Heart. James has a meet and greet coming up on December 22nd, 2018 from 5 to 7pm at Halyards The Bar in Brooklyn.
This event went well, and it felt like fellowship. There are times as writers where we question whether we're making an impact, or doing what we're supposed to do. It helps to see that other people are willing to stand in their truth, regardless of what is happening around them. It encourages you to do the same.
Thank you to everyone who was able to come out, and took the time to hear us as a collective. Until next event, or next blog post.. peace!
-Marc