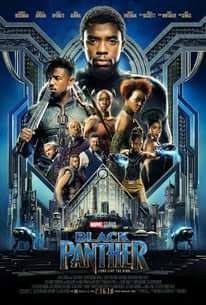 By Marc W. Polite
Editor's note: *Spoiler alert* If you haven't seen Black Panther, don't read this review. -M.P.
Black Panther released in theaters this past weekend and was a smash hit. I've seen the film twice, and there is just so much to like about this movie.
Black Panther tells the story of Prince T'challa becoming the new King of Wakanda in the aftermath of the demise of his father, T'Chaka. Occurring after the events of Captain America: Civil War, Tchalla faces many challengers to his rule. Surrounded by powerful and intelligent Black women,  Tchalla meets these challenges, and comes through them with an altered view on what leadership means.
Everything about this film just worked. It was visually stunning. The costumes were on point. Ryan Coogler did an excellent job directing. The fight scenes were great and really convincing. Danai Gurira who played Okoye, the general of the Dora Milaje was a scrapper for real. Fans of the Walking Dead knew that she was nothing to play with already though. Princess Shuri, played by Letitia Wright was the tech genius and creator of Black Panthers suit and equipment. Nakia, played by Lupita Nyong'o was the connection to the world outside of Wakanda, and the voice of reason.  The film depicted a vision of Afro-futurism, where technology and nature could co-exist without using modernity as a reason to destroy the environment. The jokes were on time, and didn't lose their kick the second time around for me personally. M'Baku, played by Winston Duke was hilarious.
I can't talk about the characters in this film without talking about Erik Killmonger. Played by Michael B. Jordan, Killmonger was Black Panther's chief rival in the film. He was an embittered, hateful man, who wanted to use Wakandan technology to free Black people from oppression all over the world by exporting weapons. Expressing these viewpoints, Killmonger became the archetype of what the FBI would call a "Black Identity Extremist" Killmonger was a villain that was, given our current realities, a villain that we could empathize with and understand. The hatred in his heart was the result of being abandoned.. in addition to the "hate that hate produced" to borrow another phrase from the past. During certain parts I was like… "Well, let's see where he goes with this plan" Even though he had a lot of untreated trauma, the social basis for his anger was justifiable.
Killmonger was one of the most complex villains in these Marvel movies. So I found him interesting, despite the savagery. Did he really have to blast his girlfriend though? Damn, homie. But, I do have to point out one thing that is nagging about the film. It is crazy how someone called Black Panther is the counter-revolutionary in this situation. With the assistance of the CIA, King T'Challa stops Killmonger from carrying out his Pan-African liberation plan. This is a movie at the end of the day, and the "bad guy" can't ever win.
In reading some of the criticisms of the film, I found myself a bit perplexed at some of the angles thinkers have taken. A lot of proverbial ink has been spilled about this film, and rightfully so. However, some of it is a bit odd. Ultimately, Black Panther is a superhero movie. Superhero films have not been about the empowerment of the collective, they are about these special people saving the rest of us from major threats we could not save ourselves from. It is the Great Man/Woman Theory of History on steroids… or heart shaped herb to be more in line with the film. If you're expecting a Hollywood/Disney/Marvel movie to provide a reasoned, ideation of Black liberation and a blueprint for Black Power, you're setting yourself up for disappointment. That's not what its here for.
Even movies speak as the voice of the mainstream. By depicting a villain who wants Black liberation, you get to demonize those who want to end the oppression.  Some of the problems that I do have with the conversation around this film is the impulse of some to use this as an opportunity to attack what they perceive to be the shortcomings of Black people in areas such as voting. I think it is a serious issue when people expect pop culture criticism to supplant doing the work of organizing and politics. Some have even chose to use this moment as an occasion to rehash their tired analysis of what went wrong in the 2016 election. If all you got from this film is that its an opportunity to browbeat Black people for viewing a movie in mass numbers instead of whatever political projection you are counter-posing, than you too may have some anti Black sentiments to work through as well. You cannot shame people into consciousness.
Black Panther is a great film, with great actors and a banging soundtrack. It's inspiring conversations that need to be had, and that is a great thing.  It is one of the best Marvel films in terms of the entire package, and it shows how much it matters that our images are depicted in film. The upcoming Avengers: Infinity War has its work cut out for it in terms of being as rich and satisfying as Black Panther. We will see.