Between 2019 and now, selling online merchandise has become big business – and more specifically t-shirts and phone cases. The revenue that singlets and t-shirts made in 2019 in the US alone was a huge $22 million – so who wouldn't want a piece of that pie? Many people have quickly dabbled in launching a t-shirt store, or a dropshipping store and then very quickly given up. 
But in reality, there are enough e-commerce buyers with different tastes to make sure that whatever you create does make a profit. When you factor in the start-up costs and the running costs, a t-shirt business has some of the lowest overheads. But to get it right there are a few things that you need to take into consideration. 
Market 
It might feel like researching your market is boring – and for some people they would rather just skip this step. But the truth is, that without this step you don't really know who you are selling to. And, furthermore you certainly won't be able to cater your goods to that market. Let's dig a little deeper into that: 
Target audience
Before jumping headfirst into 'this is a t-shirt for everyone,' consider that if you are selling to everyone, you're not really selling to anyone. The audience is too broad, and just touching their interests lightly isn't going to be enough. A great example of a highly targeted and specialized t-shirt and merch store is the trump campaign store – love it or hate it, it is an excellent example of catering to your market. 
Competitors 
You can check for brands doing something similar, do some research about how they approach their social media and their websites, and look at who makes up their buyers. This can help you build an audience profile that meets your needs. 
Ask
Who better to answer questions about what they want than the source? Create a survey that covers everything you need to know – including price points. By taking these steps, you will build an audience profile that will create your store and products around. 
Competitors
Competitors against! But you can learn so much from what other people are doing right and what people are doing wrong. You don't need to feel like a spy or as though you are doing something wrong here – because this is a common step in perfecting your offer and products. Go through everything – heck, even buy a product! Check how the process is – what was the customer service like? How long did it take to ship? Did you get tracking information? What could they do better? Or instead – what could you do better? 
Once you have some of these ideas on paper, you can begin to round out your complete offering from start to finish. It's worth remembering that you only have so much control when it comes to most e-commerce stores, though. 
Inspiration 
You are probably already working on lots of great designs, but you should be on the lookout for inspiration wherever you go. Current trends or retro classics all have a place in apparel. People love to wear unique designs and popular references – so go with it for your line. 
Your Niche
Everyone wears t-shirts, so you aren't reinventing the wheel – but you do need to have a niche. Your niche will naturally become apparent during your research, and you will be able to define and refine it as you grow your business. 
Your niche is what sets you apart, and why a customer will choose you over another retailer. Considering how many t-shirt and apparel sellers there are right now, it's not easy to stand out! Think about why you have chosen t-shirts and what you can bring to the market and your customers. 
While jumping on current trends can make some fast cash, if you are in it for the long run you need to work on a long-term niche plan.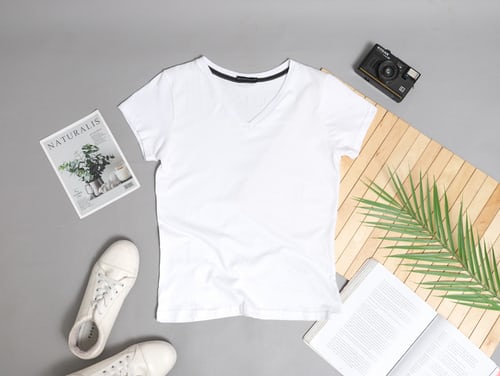 Designs 
Not everyone who wants to sell t-shirts is a designer, but they often have a vision and know what they want to do with it. It is a good idea to begin by sketching a range of your own ideas, even if they aren't great. This can really help the designer you choose with getting the styling right. 
It can be hard to keep coming up with ideas that aren't already used though, but you will find something at some point. A key thing to keep in mind is do you want to have cohesion between all of your designs? If so then you need to consider using the same designer over and over again. 
If you want a range of different styles then you can branch out and find people that fit. The design work can be one of the most expensive things that you cover, so make sure that you have it in your start-up budget. 
Website options
There are a few ways to sell t-shirts and you need to find the one that works for you. The most popular of these options is the print-on-demand websites. They are great if you don't want to invest too much time, and are just testing the waters. 
If you approach this as a hobbyist or a part-time seller then the profit that can be made can be quite nice! The company you choose will print your design onto their products and ship it for you. 
You'll need to cover a monthly fee, but for the most part, it's not too big of a commitment if you decide you don't like it. 
The options above are a few of what is available to you. But you will have to find one that has the biggest margins, the lowest shipping, and the apparel or t-shirt quality that you want. 
If you choose to build your own website, and many people do, then BigCommerce, Wix, and Shopify are great options. 
Shopify is typically the go-to for most new sellers as the process is easy and you can have a store running in about ten minutes. Shopify is also better for complex online stores, while Wix is better for smaller stores. 
Set Up Your Store
How your store looks will have a big impact on if people choose to buy or not. It has a lot of pop-ups, and feels messy; it makes the buying process more difficult. So you are looking to create a clean-looking store that is easy to navigate. 
Your product photos should be clean, with good lighting. For a print-on-demand store, your design will be placed on the t-shirt on the image, and you won't have much say about how it looks. 

Your

product descriptions

are one of the places you need to focus on your keywords but they also need to be informative and interesting. Consider the sizing details, the care of the product, and other vital information. 

Set your prices so that you make money. Print-on-demand can offer very slim margins if you don't price yourself well. Just remember that you don't need to price yourself for everyone – just your own audience. 
Order your own product
Once you have set up your store, you should be the first person to order your own merch. You need to check the print quality and the fit. So that you can give the best advice for people who order. For example, if you order an M and an L, but the M feels closer to an S then that is information that you should pass on to potential buyers. 
Online Marketing
In a sea of t-shirts, you need to market well, often, and with purpose. You could set up the store and just leave it, that is possible. But if you are looking to make a living in the business you'll need to do some marketing. 
Print-on-demand websites have their own traffic that you can capitalize from, as well as tools to make marketing easier. But it is worth you reading up on how you can make the most from marketing your t-shirt company. 
Social media marketing is likely going to be the place where you spend the most marketing resources. Most of the time it is free to use, and you can build a community there that is within the niche you are creating for. 
When it comes to really making a splash on the search engines, you should be keeping SEO in mind at all times. This means using keywords as your guiding light for everything that you create. 
You don't need to be on all social media platforms, but the ones you are on, you need to do well. Work on a social media strategy and look at some of the greats like Nike for inspiration. 
It is more than possible to make money selling t-shirts online, but you still need to treat it like any other business and work hard to make it work. 
If you are looking for the best way to market your products using SEO, then check out The Endless Business Opportunities of SEO.