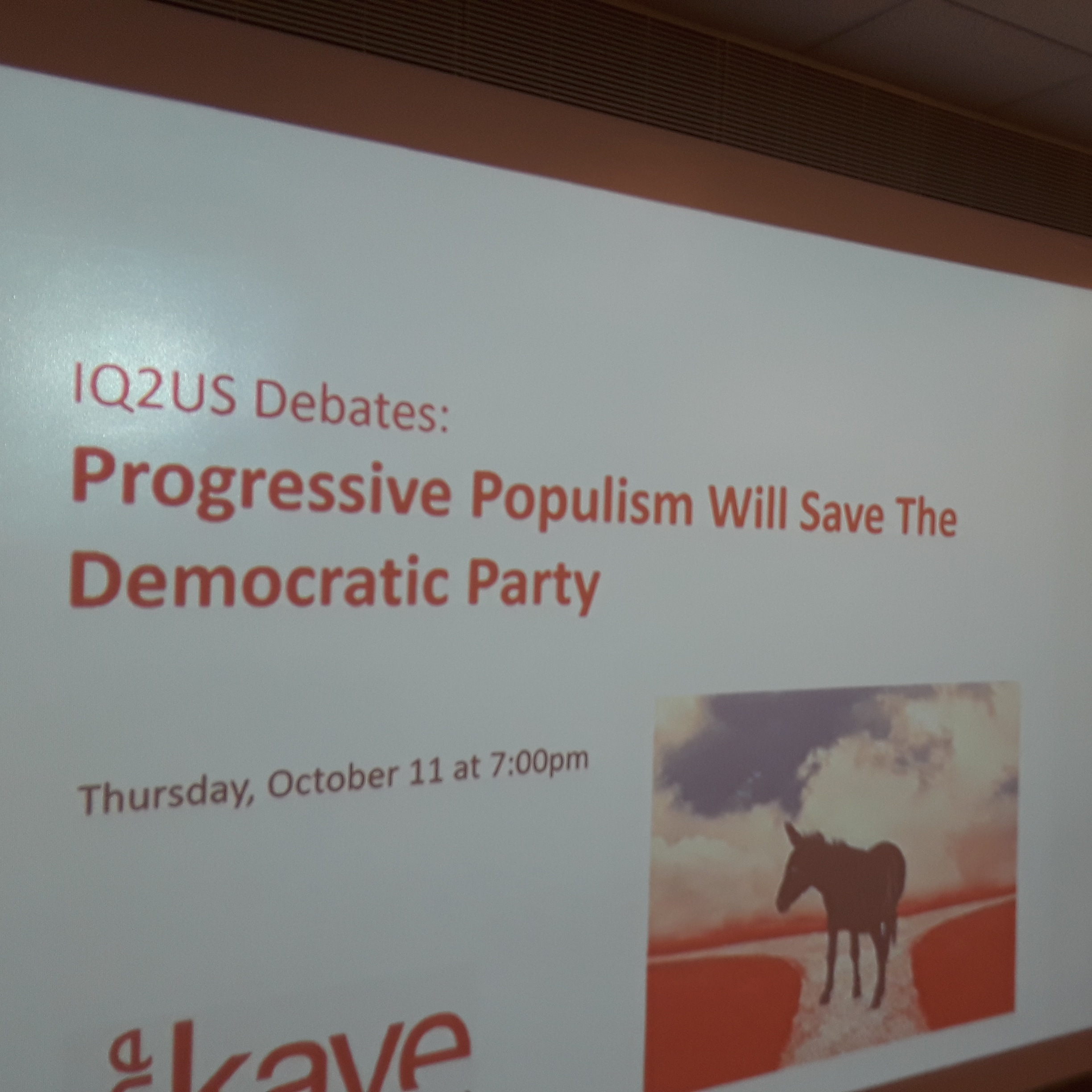 By Marc W. Polite
American politics have become extremely polarized in the last two years. In describing the aftermath of the election of Trump as president, political observers have noted that there has been a populist surge in this country. Populist movements can take on right or left iterations. In 2016, in Donald Trump, the right had its expression of right wing populist outrage, and successfully channeled it into an electoral victory. Out of power, the Democratic Party has for the moment found itself divided between the Sanders Democrats, and the moderate centrist democrats. The future of the Democratic Party is uncertain, and many are concerned about the outcome of the midterm elections and credible stories about voter suppression in red states.
Last Thursday evening at the Kaye Playhouse, Intelligence Squared US held a debate about the direction of the Democratic Party. Titled "Progressive Populism Will Save The Democratic Party", the debate and its purpose was to convince attendees of the strategies that the Democrats should pursue to defeat the agenda of President Trump beginning with the 2018 midterms and to defeat President Trump himself in the 2020 presidential election. Arguing in favor of a progressive populist agenda, were Karine Jean-Pierre, Senior adviser for MoveOn.org, and Jeff Weaver, Bernie Sanders 2016 campaign manager. Arguing against were Jonathan Cowan, President of Third Way, and Steven Rattner, CEO of Willett Advisors LLC.
The debate, coming before the mid term elections next month is a live question. In the debate context, the moderates were able to sway the audience to their point of view. As to how moderates will fare in an environment where right wing populism is flourishing remains to be seen.
To see footage of the debate in full, see the video below.