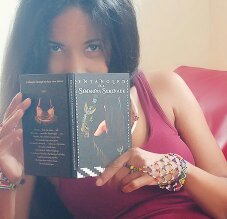 Greetings everyone! As you know, today is Writer Wednesday. This week, we have the opportunity to hear from poet and author Oleana. She was among the poets who shared their work at the Delta Sigma Theta sponsored Arts and Letters Open Mic at Sister's Uptown Bookstore on April 13th. Here, we hear about her inspirations, her activism, and what her book is about.
Polite On Society: Who is Oleana?
Oleana: I'm a Mother, Dancer, Author, Cultural preservationist, Inheritor of a Diary of Love poems, Sensuality healer, International Traveler, and above all a Nature Lover.
POS: Reflections of a Whispering Dove; Entangled in A Simmons Serenade is an interesting title.
Could you explain to us the reason behind the title?
Oleana: My Native name is Whispering Dove, I also realized the collection of Poems were a Reflection and the cumulative Poems a Serenade. Imagine a Dove being lured by the sultry poems rendering it captive. What better image than a Dove hovering over a melodic Serenade of Love Poems as it flutters about in the wind? Likewise, it correlated to one of Danny Simmons book of Poems (he wrote the poems to me, and I now read them for audiences to experience their own serenade).
POS: How are you able to be so open in your work?
Oleana: It was not an immediate process, but something happens each time someone holds the book and hears the Poems. They change before my eyes and it reminds me of the need we all have to feel emotionally connected and satisfied by the power of Love aka PASSION.. As the poems caress hearts and my audience responds with a depth of passion, it alerts me of the healing taking place and encourages me to share it with others so they may also receive the passion.
POS: Can you tell us a bit about your advocacy work in the Indigenous community?
Oleana: I was fortunate to live in NYC and be involved with Arts my whole life, but as I matured the obligations of my ancestry became imperative. It's important to maintain our cultural identity, and I do that by working with local tribes whose goal is to preserve the traditions by passing down the holistic values. Whether I'm organizing clothing donations, or offering Native Programs, It's hard work and satisfying because I know our children and grandchildren will benefit from our efforts.
POS: What is next for Oleana? Do you have any projects that we should know about?
Oleana: I've collaborated with Celebrity Stylist Lanier Long who exclusively designed my Serenade perfume, available in the book package . The Serenade fragrance is a perfect aroma to accent any romantic evening with Love Poems.
POS: Is there anything else that you want our audience to know about you?
Oleana: I am honored to be initiated into this world of Poetry. We can't always predict where our lives will lead us, and for me there is a blessing that came from receiving a Diary of Poems. It's a gift that keeps giving, and it's my blessing to share with others. Receive it for yourself.
—
I'd like to thank Oleana for granting us this interview. To learn more about her endeavors, visit the .Reflections of a Whispering Dove Facebook page