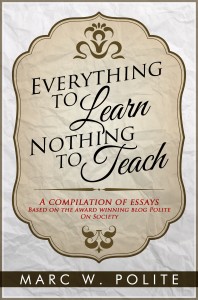 Good afternoon, folks. It is the end of the week, but I want to share some quick news with you. As many of you know, I have spent all of 2016 promoting my second book "Everything To Learn, Nothing To Teach". I have been doing panels, featured at book fairs and conferences based off of the material in this book.  I even managed to get the book into three bookstores in Manhattan. The grind rarely stopped, but it paid off. This morning, I got some more news about the book. Yours truly has been mentioned as one of 50 Authors to check for. According to the Virgo Girl Media, "Everything To Learn, Nothing To Teach" is a book to look out for. The link is featured below for those who want to check it out for themselves.
50 Authors To Shop Holiday Guide
This is a surprise and an honor. For that, and many other things, I am grateful. This book is available either on Amazon, or you can get a signed copy directly from me by ordering via my official website (marcpolite.com)
Thanks to Virgo Girl for the shoutout, and thank you for reading. Peace!
-Marc