This past Saturday, I attended the first annual BloggerWeek Unconference at the Sheraton Hotel in Silver Springs, Maryland. The event was a full day of panel discussions and break out sessions about blogging and social media. It would be the final day of a week long set of events in the D.C. area. Founded by Jessica Ann Mitchell, BloggerWeek is the offline counterpart to the social network Black Bloggers Connect. After introductory remarks by Mitchell, the day began with the first panel on monetizing a blog.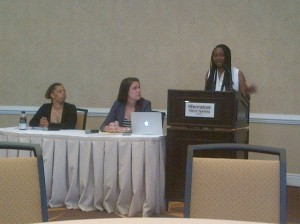 The morning panels focused intently on two aspects of blogging: the monetary and the technical. In addition to sharing the ins and outs of gaining support from sponsors a wealth of information on the attitude to take towards collaborating with companies. Panelist Ella Rucker  had an interesting remark about the manner of approach.   "Don't pitch people your problems, pitch people their solutions" said Rucker to the audience. Crystal Duncan mentioned the importance of disclosing to your audience when posting to your blog about products from companies. The following panels and panelists would continue on with the themes of the how-to, while the afternoon would focus on bloggers that provided various content.
Brazilian blogger Paulo Rogerio Nunes participated in an afternoon session titled International Roundtable: Blogging in The Pan-African World. Here, he gave an informative talk about the realities of life for people of African descent in Brazil. A country that has the largest African presence in the Diaspora, has a blogging scene that is thriving. His media outlet, Correio Nago is a news site that utilizes civic journalists to cover issues affecting Afro-Brazilians that the mainstream media will ignore. His presentation touched off discussion afterwards of how Afro-Brazilians, and African-Americans can collaborate on business ventures. A thought sparking session indeed.
Political bloggers face unique challenges in this field. As one of them, I participated in a session discussing some of the matters that can come to the forefront in choosing politics as a topic. The title of the session was "Use Your Blog To Affect Politics and Cause Change" On the panel along with me were Kirk Clay with his site Energizing Politics, and Lauren Burke of Crew of 42. Moderated by Martin Pratt, the discussion focused on the challenges of keeping fresh content for your audience,  and staying focused on providing content without copying everything else already out there in the blogosphere. Of course, passion is also a part of the equation, in addition to timeliness of topic selection as addressed by Lauren and Kirk.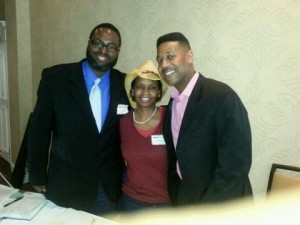 One more panel session on professional branding would follow, and then came closing remarks by the conference founder. Mitchell mentioned that there are already plans under way to convene a BloggerWeek 2015. Considering how well this went, I will definitely be on the look out for next year's event. It was good building with so many Black bloggers based in the D.C./Maryland/VA area. It was interesting how you can go from talking about the commonalities of gentrification under way in D.C. and N.Y.C, to music and other things. Thanks to the organizers for choosing me as one of the panelists. Much respect to everyone I interacted with, and let's keep building. Peace!
-Marc W. Polite
Related articles