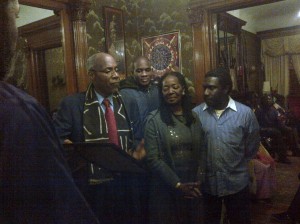 This past Sunday, an institution in the Harlem community celebrated two decades of making a difference. The Board for The Education for People of African Ancestry commemorated 20 years of functioning as an organization in the space of the Clarke House. Named after Africanist historian Dr. John Henrik Clarke(1915-1998), the edifice is now re-open. After a series of renovations, the community centered and landmark space will now be utilized to host events as it has in the past.
The theme of the ceremony was what would Dr. Clarke have to say about the current conditions of our people. Dr. James McIntosh, a former student of Dr. Clarke shared the story of his interaction with the noted historian. In his presentation, he also reminded us that much like today, not all Black intellectuals agree with one another. 20 years ago, there was a sharp disagreement between Dr. Clarke and Henry Louis Gates. The various speakers all touched on different points in the history of BEPAA. Dr. Adelaide Sanford and Dr. Shelia Tranumn also spoke on this theme, with one of the tenets being the economic base of education.
The presence of an elected official underscored the importance of this event. State Senator Bill Perkins was in attendance, and presented the BEPAA Board of Directors with a Proclamation recognizing their work. BEPAA intends to host various educational events directed towards the Harlem community in particular, and the African Diaspora in general, in the near future.