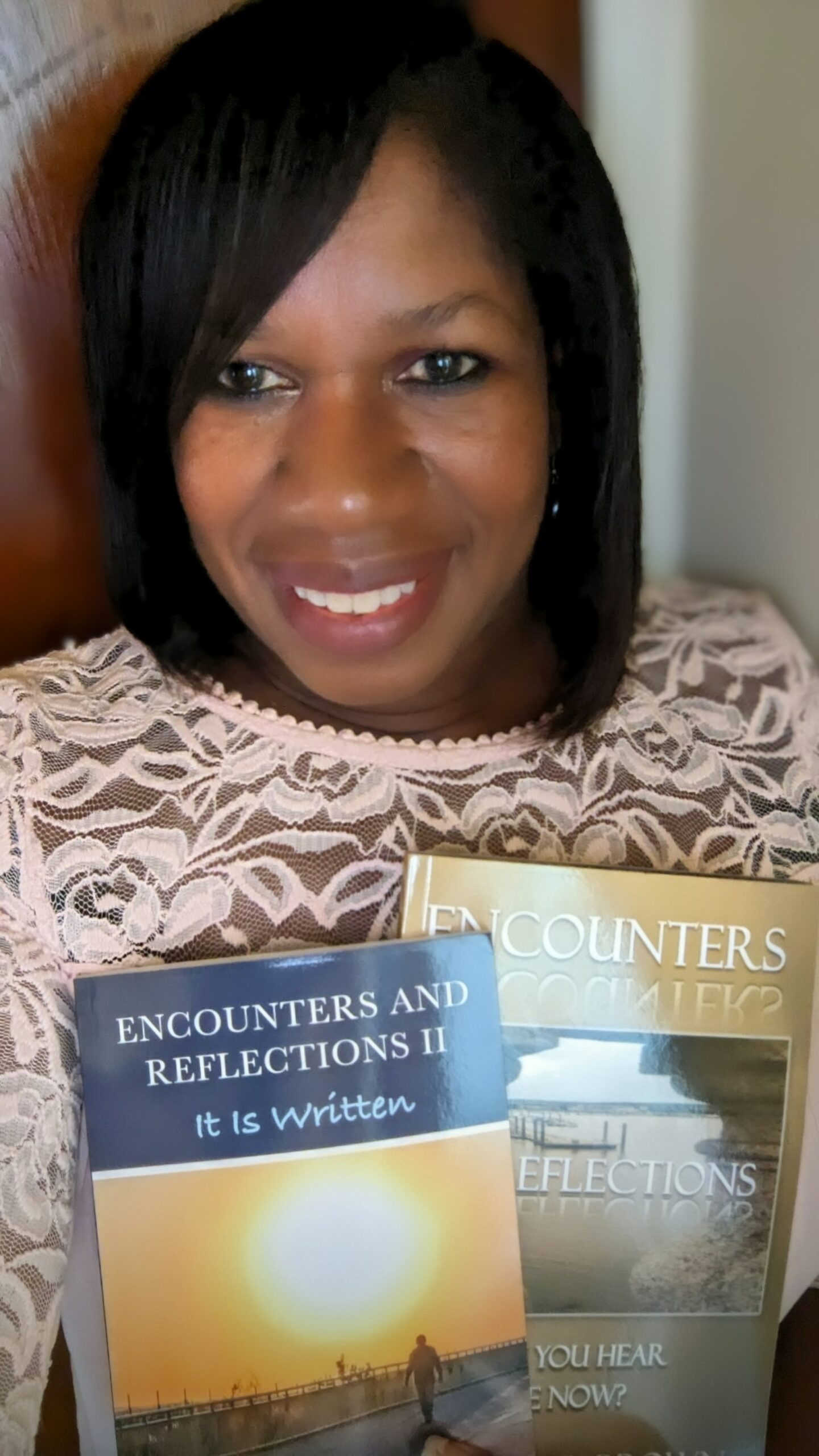 By Marc W. Polite
Greetings, my readers. For this week's edition of Writer Wednesday, we hear from Annette O. Brown. Annette is the author of two books, Encounters and Reflections Part 1 and 2. Read below to learn more about her background, and outlook on faith. Readers should also know that Annette will be vending at this year's Brooklyn Book Festival.
Polite On Society: For our readers can you tell us a little about yourself? Who is Annette Olivia Brown?
Annette Olivia Brown:  I was born and raised in London, England. I have lived in New York for many years,
however, I still regard England as my first home. My parents immigrated to London, England
from Jamaica, West Indies and I am one of four children. As a teenager, I decided to immigrate
to America with my parents.
In the beginning, when I first arrived, I found it quite hard to adjust. I remember, eventually,
taking my first train ride from Brooklyn on the N or R train into Manhattan. At one distinct point
the train rolled out of the tunnel and into the daylight. I saw the New York skyline for the first
time and I remember thinking, "O.K. I think I will be able to adjust to New York."
At first I pursued a career in computer programming. (This was actually a stark contrast to the
"A" level English Literature, Art and Psychology I took in England. I also went to dancing school
and as a child and young teenager.) I really enjoyed working as a system manager for a small
real estate company before graduating with a Bachelor of Science in Information System
Management at York College, CUNY.
When I became a born again Christian, soon after graduating, I actively began to seek and pray
about my purpose in life. Soon after, many individuals asked me if I had considered teaching. I
researched and then applied for a teaching position. The doors flew open for me. I went to
Bank Street College of Education for a Master of Science in Education/Master of Education.
Eventually I specialized in elementary math, acquired a Math Leadership degree and became a
Math Staff Developer at schools in NYC Department of Education. Later on I applied for a
position of UFT Teacher Center, Math Coach. In this position I provided school site-based and
also city-wide training and workshops, within different teams, to teachers and other educators.
Christian ministry has also been a prominent part of my life. Some highlights have been
international missions with large and small groups. My focus was to teach students and
sometimes to train teachers in various best teaching practices. I had the pleasure of going to St
Vincent, Jamaica, WI, British Virgin Islands, Ghana, Africa and Rustenberg, South Africa.
Eventually I was inspired to obtain a 2 year certificate in Christian Ministry from N.Y. Theological
Seminary.
POS: What inspired you to write Encounters and Reflections?
AOB: I thought my first published book would be a children's math literature book. I was invited to be a
part of a children's book writing project one summer at Bank Street College. It was, however,
my active and ongoing Bible study, prayer, reflection, journaling and then uncommon and divine
encounters that led to the inspiration of writing and publishing these first books. I gained a new
passion for sharing my faith through real encounters that I was actively experiencing. I believe
God was actually downloading these experiences and ideas for me to share. As I began to
express myself through writing, skills that I acquired in 'A level' English Literature, would pour
out of me. I began sharing some experiences on social media and was encouraged by some to
pursue writing a book. This encouragement was confirmation for the thoughts and plans that I
was already prayerfully making about publishing a book.
POS: Looking at your focus on both "Encounters and Reflections 1 and 2" you center your
faith in your writing. How do your beliefs inform your literary work?
AOB: I believe God created all things and this belief is connected to my Christian faith. My
relationship with God, guidance by God's Holy Spirit and study of scripture are used as my
guide for understanding how life was formed, evolved and is in process. "God's awesome
Creation" is a term or tag line I use to underscore my belief.
"Creationism is the religious belief that nature, and aspects such as the universe, Earth, life, and
humans, originated with supernatural acts of divine creation."
(Wikipedia.org)
POS: You share a lot of pictures in nature on your blog. Tell us how your view point on God
connects to your reverence for the natural world.
AOB:  I believe we are not just flesh and blood but also spirit. This spirit is connected to God who is
Spirit. I believe God's Holy spirit helps and guides us to understand God, His ways and inturn
more about ourselves. Nature reflects the work of our Creator and this should put us in a
stance of awe and wonder. Sometimes reverence can lead us into relationship or a deeper
relationship with God.
Setting time aside to engage with nature in places like parks and forests and or even beside
lakes and large ponds provides moments, times or opportunities for us to relax and connect with
the Spirit of God. In addition, there are many lessons that are inherent to processes and cycles
in nature that can inform us about our relationship with God. For example, one reflection in
"Encounters and Reflections II" is called "Like a Tree." I also have a youtube called AOB
Creations: Lessons in nature. In addition, recently, the following entry was made in my "Journey
Continues" blog "Sacrifice and mutualism – an exploration." The process of pollination by bees
for specific fig trees is explored and compared to the process of salvation through Christ Jesus.
Photographs are an integral part of the reflections in the books and also provide important
perspectives to the encounters shared. I was also inspired to take all of the photographs,
except one, and many of them include nature.
POS: What did you have to tap into to write about the subjects that you do?
AOB: I tapped primarily into experiences, encounters that I was prayerfully moved by. Many of the
encounters were so compelling in nature I felt that I had to write about them. This is a book of
reflections, told from various perspectives and often from a place of observation and evaluation.
Everyday encounters with other people, encounters in various places and encounters with
things in nature, like trees, a flock of birds or a lake. Some of the reflections were personal
accounts and some were through observation and meditation. All of them were written through
the lens of prayer and insight from the Holy Spirit and all, at some point, are aligned to an
additional lens of Scripture for a more universal perspective or point of view.
In addition, interactive reader thoughts and perspectives are facilitated with journal prompts
after each reflection to encourage reader responses and deep thinking.
POS: If you could give an inspiring writer one piece of advice what would it be?
AOB:  Be very clear about the message or messages you want to share and let it resonate in your
work.
—
I'd like to thank Annette for taking the time to discuss her books with us. To learn more about her, you can visit her official author site at AOB Creations.