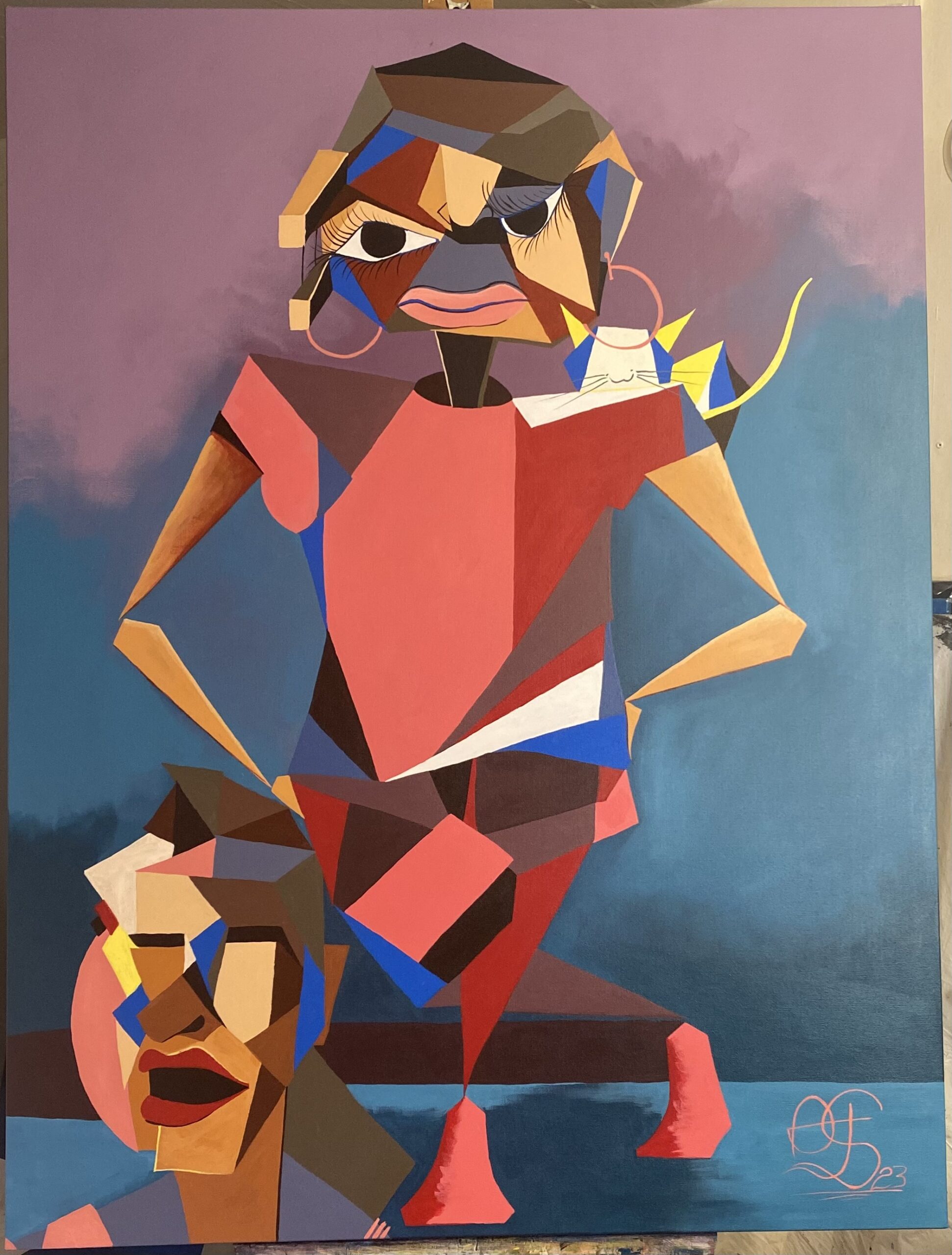 By Brian Geldin
Haitian-American artist Samson Tonton's new exhibit, "The Soul Cries Out" (The Art of Samson Tonton), is a collection of his awe-inspiring paintings that push the conventional thinker to reimagine nature, love and self. The show launches at La Grua Center in Stonington, Conn., on Friday, Sept. 8 from 5:00 p.m. to 7:00 p.m. with an opening reception. Gallery hours follow on Sunday, Wednesday and Friday afternoons from 1:00 p.m. to 4:00 p.m. through the end of October.
On the title of his show Samson says, "I've heard a lot about 'soul searching,' and I question, 'how do you search for your own soul?' The answer is you can't, so my conclusion is; 'there's no such thing as soul searching. It's a misconception. However there's something called a tormented soul'." With that, Samson invites visitors to experience his artwork as "a captivating fusion of sight and sound, where the soul cries out, instruments sing, vibrant colors dance in harmony, infused with impromptu energy, and rhythms entwine with the human body in a symphony of formality and expression."
Of the 10 paintings Samson will display, three are related to one another as they reflect how one sees oneself versus how society sees them. In what he calls his most controversial painting, "I am Photogenic," Samson says it "shows how social media reflects what's happening in our society today, where we as people are presenting a different persona than the actual person. It is controversial because people don't like to hear the truth, they prefer that we lie to them." The second is "The Mask," which he says is pretty much the same painting in a different form, showing how people keep hiding behind a mask, instead of showing their true selves. And in the third, "Walk the Walk," Samson says he created it to say, "stop following someone else's path, be yourself." For instance, as Samson has been compared to Picasso he says, "I don't want to be compared to anyone. I am not Picasso, and Picasso definitely wasn't me. Walk the walk that was chosen for you, and not by anyone else."
Tonton is an artist inspired by the beauty of complex nature, which permeates and comprises everything we see around us, deviating from its simplistic definition to also include humanity. He utilizes paint on canvas to convey his view of the world, capturing everything from major systems in nature and people to the small moments that make up every day.
While Samson has been working as an artist for the past 10 years professionally, he's been drawing and doodling ever since he was old enough to hold a pencil in a small town in Haiti where he was born and raised. Originally, he believed he wanted to be an animator and received his degree from the Art Institute of Boston. After graduating, he decided he wanted to go back to what he loved most: drawing and painting. He often stays up for hours at a time until the canvas in front of him reflects what he sees in his mind's eye. He uses his artwork to push bigger conversations on beauty and show a representation of all people.