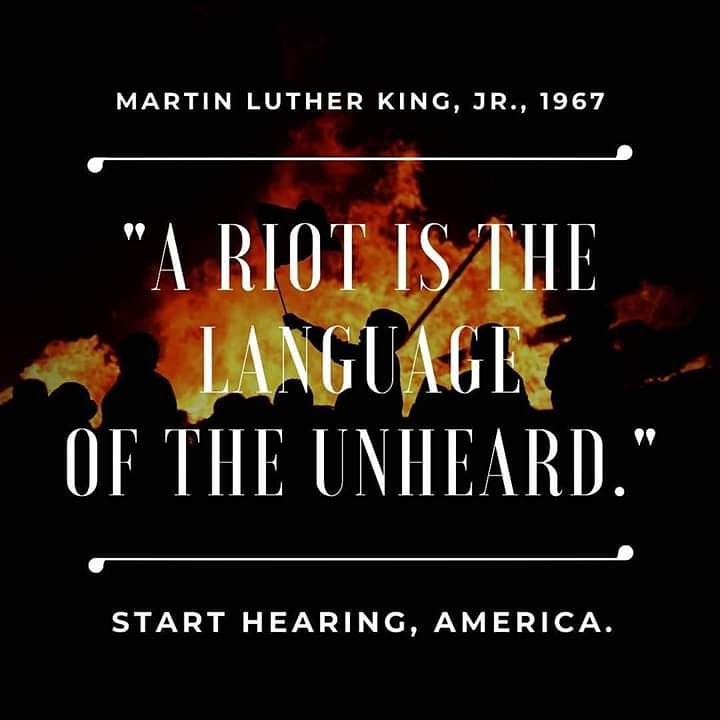 By Marc W. Polite
Well, this escalated quickly and unexpectedly, didn't it? The blatant murder of George Floyd in Minneapolis last week has over the course of a few days transformed into a nationwide protests against police brutality.
Among the places where protests have popped up outside of Minneapolis include (but not limited to) New York City, Albany, Philadelphia, Washington. D.C, Richmond, Fayetteville, Chicago, Atlanta, Detroit, and Los Angeles.
All hell has broken loose. We have an upsurge of rebellions against police brutality that has emerged nationwide, and President Trump is threatening protesters with "vicious dogs and ominous weapons"- hardly the wisest thing to say at a time like this.

During times of social crisis, there is no telling what the spark will be. For millions of people, a blatantly racist high profile murder of a Black person- an unfortunately common occurrence was the tinder during this pandemic. It's like certain elements in this country are high key saying "yes, we know a lot of you are dying, but not fast enough for us"

"Let's accelerate the process, boys!"
They pushed too hard, and got more than they bargained for.
This is all occurring at the speed of life, but let us consider some of the underlying conditions. The coronavirus has claimed over 100,000 American lives, and the layoffs in response to the economic downturn caused by it has resulted in 40 million people being unemployed.
There's a big contradiction here.. we live in a country where each of us is "supposed" to have three to six months of living expenses saved up for an emergency, yet the corporations and government don't have 2 and a half months of spare resources available.
Politicians are being obstructionist about further government relief directed at the American people who have lost a lot in the past few months, and there's a rush to reopen- putting many in harm's way before this spread is under control.
Between the virus, austerity, government indifference, and now police brutality, people's backs are against the wall.
There's no telling where this ends, but it is clear that people have had enough.