By Ashley Lipman
Having a small kitchen can be a constant source of frustration. That challenge is exacerbated when you live in an apartment and can't make any permanent changes. Fortunately, there are plenty of temporary solutions that can help you make the most of your space. Here are some fantastic storage ideas for your small apartment kitchen.
Repurpose a Bookshelf
If you don't have a pantry, repurpose an old bookshelf for additional storage. You can use this to keep your cupboard space clear for dishes, using the shelves for spices and sundry. To be extra thrifty, look around at local garage sales to find a small bookshelf for this purpose. You can also buy simple industrial shelves that look great in a kitchen setting. Get creative and make the space your own.
Add an Island
Even though you can't alter the cupboards in an apartment, you can add a mobile island to create more storage space and surface area for food prep. Repurpose an old table or shop for the best online cabinets for a custom approach.
Decant Your Goods
One of the best ways to improve your storage space in a small kitchen is to decant your goods into mason jars and canisters. This will cut back on the storage area you require and add to the overall aesthetic of the room. Invest in some high-quality storage containers that create an air-tight seal to preserve your goods. You can also get small storage trays for things like teabags. Ideally, the fewer bulky boxes you have, the more optimized your space will be.
Use Vertical Space
Don't forget to take advantage of vertical space in your kitchen. If your cupboards aren't flush with the ceiling, this space can be used to store pots, pans, and extra dishes. You can also install temporary shelving over the kitchen door or along the length of an unused wall for additional storage.
Utensils as Art
Rather than hiding your dishes and utensils away, think about how you can use them as art. Use a few well-placed finishing nails or hooks to hang your colorful colander, slotted spoon, and spatula. Stacked bowls and mugs can be artfully arranged for storage that looks visually appealing.
Use Magnetic Strips
Add some magnetic strips to your backsplash or on the bottom of your cupboards. You can adhere these magnets with heavy-duty adhesive strips so as not to permanently damage the surface. Magnetic strips along the backsplash are ideal for storing knives and other metal utensils. This also works for cutlery and prevents them from acquiring dust or dirt in storage, which is common when they're placed in drawers.
Use magnetic strips along the bottom of your cupboards to hold spice jars and containers. This not only frees up cupboard space, but it also makes cooking a breeze.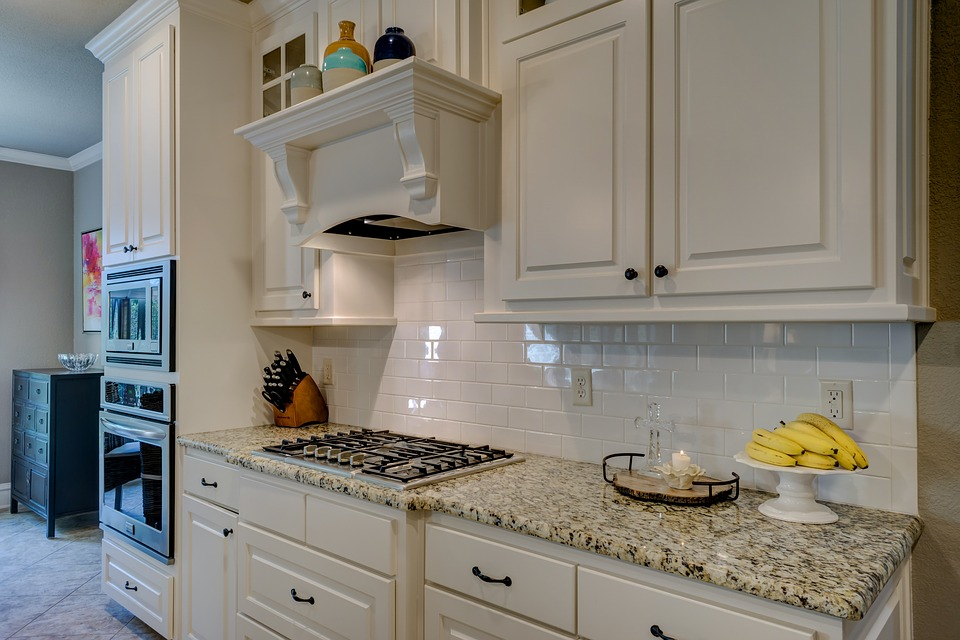 Introduce Shelf Risers
One of the simplest, most affordable ways to increase your storage space is to use shelf risers. These are like miniature shelves that fit on your counter or in cupboards to make use of vertical space. Add a shelf riser over at the back of your sink to store dish soap and sponges. Shelf risers in cupboards are ideal for extra canned goods and spice containers. Be sure to measure the space before buying your risers to ensure everything will fit.
Use Hanging Baskets
Hanging baskets are great for storing spare utensils and food in an artful way. You can get hanging baskets that adhere to the ceiling or removable baskets that slide onto the bottom of your cupboard. The latter will also fit within the cupboard, creating a nice alternative to shelf risers. With these simple storage solutions, you can make the most of your small apartment kitchen.
Ashley Lipman
Content marketing specialist
Ashley Lipman is an award-winning writer who discovered her passion for providing knowledge to readers worldwide on topics closest to her heart – all things digital. Since her first high school award in Creative Writing, she continues to deliver awesome content through various niches touching the digital sphere.