By Ashley Lipman
Source: Pixabay.com
A kitchen remodel would typically cost between $20,000 and $50,000. It could even exceed that depending on the scale and sophistication of the project. In this context, it's perhaps not surprising that so many homeowners will put off a remodel for years as they wait to accumulate enough cash or credit.
While kitchen renovation will certainly cost you, you don't have to break the bank. If you are on a tight budget, you can still give your kitchen a fresh look. And a budget renovation has a distinct advantage in investment return. It often takes years before a high-cost kitchen remodel leads to a commensurate increase in home value. For a budget renovation, a relatively small increase in value is all it takes to return your investment. So you benefit with savings today and returns tomorrow.
Here are some practical tips on how you can renovate your kitchen on a budget.
  Don't Replace. Update Your Cabinets Instead
A quick glance at what is available at RTA cabinet review's website would show that kitchen cabinets are at the center of any kitchen renovation project. The cost of buying new cabinets alone can run into thousands of dollars. If your cabinets are in great shape, there's no need to incur this expense. An upgrade might just be all you need.
Solid wood cabinets come especially handy when you are doing an upgrade but any type of cabinet can be upgraded. Just a few touches and they will look new and in step with current trends.
Replace cabinet pulls, knobs and hinges with contemporary hardware. Sand and restain wood cabinets to get rid of scratches, oily stains and the old color. Paint them in your preferred color consistent with your kitchen's overall new theme. It's hard to go wrong with white but you can get a little creative by applying less conventional colors.
  Buy Budget Countertops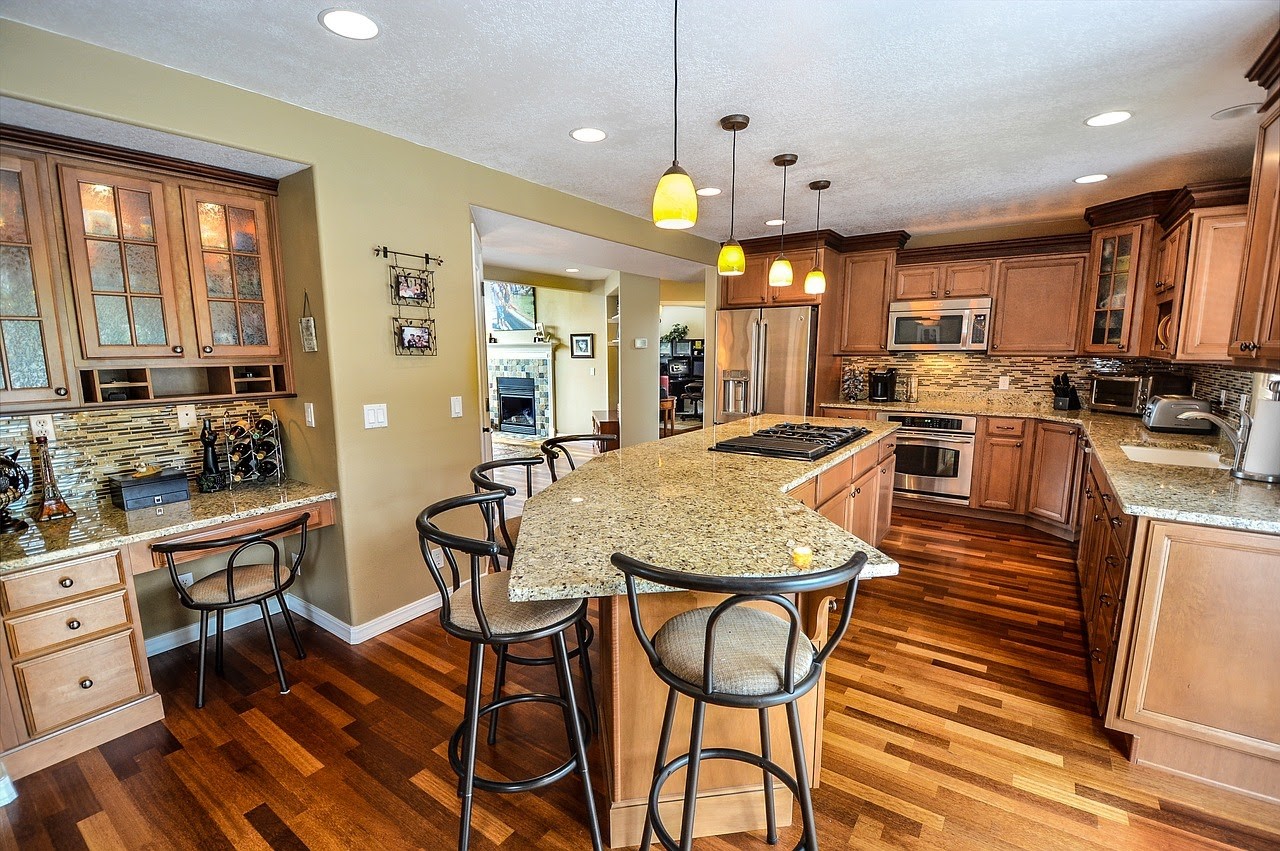 While new countertops are virtually standard for a kitchen remodel, price is an impediment for people looking for upscale pieces. It doesn't have to be that way.
There are a lot of bargains out there hiding in plain sight if you know where to look and can time your shopping for the right time of the year. Visit local home improvement stores and discount granite shops especially during their annual sales. You can grab top-notch countertops for just half or less of what it would otherwise cost you.
Consider other options such as resin that can be installed atop an existing concrete or laminate counter. You can also cover or replace your current counters with a butcher's wooden block. A butcher's block is not only cheap but also, if well cared for, ages gracefully. Complete the look with a wooden wine rack and dish rack.
Your choice of countertop material, design and color will depend on your budget, preferred style and existing cabinetry. Keep an open mind, compare prices and, if possible, install the countertops yourself.
  Change the Lighting
Lighting plays a major role in how bright, welcoming and functional a kitchen feels. As a general rule, the kitchen should have warmer lighting than the living room and bedroom. For budget renovation, consider replacing the existing light switch panels with new ones that match the new kitchen hardware and the overall kitchen design theme.
Shopping for new light switches and light fixtures is fairly easy as there are a myriad low-cost options at home improvement stores. And light fixtures are something you should have no qualms shopping for online. A nice strategy would be to look for an expensive fixture online, in home décor magazines and local stores, then shop at a big box store for a similar-looking fixture that costs much less. Most people will have difficulty telling the difference anyway.
  Stick to Basic Brands for New Appliances
New appliances will certainly make your kitchen feel brand new. However, the cost of replacing everything from your refrigerator and microwave, to your toaster and coffee maker can push your budget to its limits. You can enjoy significant savings on your purchases if you shun the big fancy designer brands and instead go for basic brands with similar specifications.
A sizable proportion of the price of a big brand appliance can be attributed to the decades long reputation the name carries. Yet, there's often not a huge gap in functionality and longevity between the big brand appliances and the equivalent items from newer, lesser-known manufacturers.
If you consider big brands an absolute must-have, you have the option of buying them in the used market.
Dreaming of what your new kitchen will look like is one thing, but affording it is another. Apply these tips to realize a standout kitchen that doesn't cost much.
Ashley Lipman
Content marketing specialist
Ashley Lipman is an award-winning writer who discovered her passion for providing knowledge to readers worldwide on topics closest to her heart – all things digital. Since her first high school award in Creative Writing, she continues to deliver awesome content through various niches touching the digital sphere.