By Marc W. Polite
Next month, an interesting conference will take place. Blerd City Con, an event celebrating Black Nerd culture will be held at St. Francis College. In learning more about this event, I had the opportunity to speak with Clairesa Clay, the Founder and Executive Producer.
Polite On Society: What inspired you to found Blerd City Con?
Clairesa Clay: I was at the Studio Museum of Harlem for their exhibition on Afrofuturism, and I wanted to do a conference around films about Afrofuturism.  I stumbled on the word Blerd from one of the artists's bio or website.   Coupled with attending New York Comic Con, and seeing how most of the black centered panels were off to the side. I wanted to do a conference, and The definition of Blerd = Black + Nerd, and describes aspects of myself like gaming (old school Atari);  Skateboarding, Trekker, Star Wars, Comic books, Science Fiction writers like Octavia Butler, and other stuff.
POS: Black nerd culture has become more acceptable, especially in the past decade. What do you feel are some of the reasons for that?
CC: Cosplaying and Marvel films.  People are able to express their fandom without negative judgment which spilled over to other areas like gaming, books, tech, etc.
POS: How has Blerd City Con expanded and changed?
CC: It has expanded to three days, and it has changed locations to St. Francis College.  This year we are partnering with St. Francis College's Center for Crime and Popular Culture.   What will be different for this conference that is in its third year?  The focus on Black Horror as our theme.
POS: How has your involvement on the arts and cultural scene of New York City informed your offerings for this conference?
CC: I have worked on several conferences from NYU's Yari Yari to Urbanword.  One focusing on Black women writers and the other of black filmmakers.  Also, I was in the poetry scene, and a programmer for a black women film festival.  I have done a few things in the arts over the years as it is a passion.
POS: What do you think the attendees will get out of Blerd Con City 3.0?
CC: As each year rolls around, we want to highlight a specific aspect of Nerdom.  This year, talking and experiencing Black Horror through films, comics, and writers.
—
I'd like to thank Clairesa for taking the time to speak with us about Blerd City Con.
Additional info via Blerd City Press Release: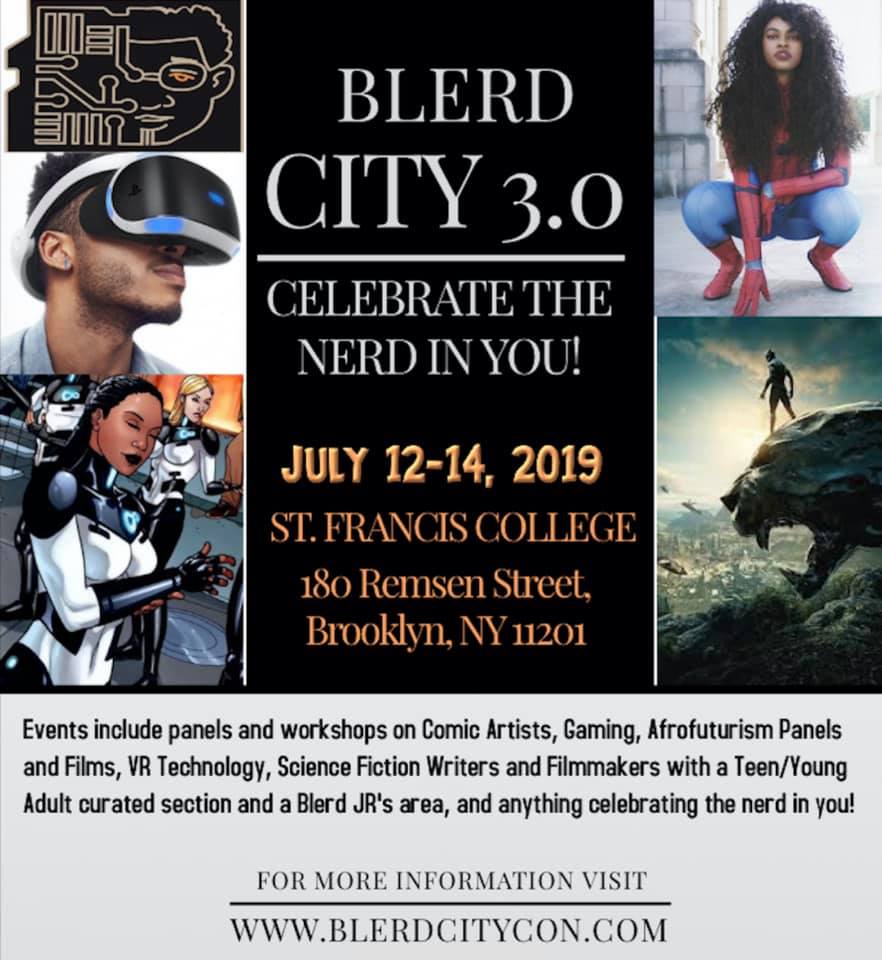 Blerd City Con 3.0, a micro-cosmic explosion, is coming to Brooklyn, NY July 12 – 14, 2019, and delves into the multidimensional nerd sphere bringing together community and amplifying the global intellect. Two days of the conference will take place at St. Francis College (180 Remsen St., BK Heights) with the third day at additional locations in Brooklyn (to be announced). Black Horror is this year's theme, and we couldn't be more excited to bring forth everything "weird and strange" the community has to offer. Yet, we also want to address the personal horrors the Diasporic community may experience daily; whether that is feeling invisible, mental challenges, nutrition and having an overall wholistic approach to life…our goal is to bring compassion, understanding and knowledge as a take away for participants. "The 'nerd' has always been considered awkward, eccentric and whichever other adjective you can come up with to describe the community. With this conference, we want to provide a safe space for people of color where one can be – and – celebrate as themselves," expressed Clairesa Clay, founder. For the participant, Blerd City Con provides substantial connections to talented and cutting-edged professionals in the craft of positive image making. We are dedicated to exploring local and global artistry through the African descent lens of nerdom (i.e. Black + Nerd = "BLERD") by the means of stimulating educational programming, Blerd City re-conceptualizes and reinvigorates the multilayered Black identity. This year like in the past, BLERD CITY CON 3.0 will feature art, science, film, and technology. The conference incorporates panels and workshops highlighting ComicBooks, Gaming, Afrofuturism, Science Fiction, Horror, and Fantasy authors with a Teen/Young Adult curated section and a Blerd Jr's (children) area. Some of the panel titles are: Blacks in Animation; Women in Comics; Code, Write and Sip, and the Horror Film Showcase supporting this year's theme. Annually, Blerd CIty Con honors professionals who move the Blerd culture forward through their creativity. This year the conference will Award David Crownson, creator/writer of Harriet Tubman Demon Slayer, with its LA Banks Award. One of the most anticipated events of the year, you can get a daily ticket or tickets for all three days to participate. Remember, Blerd Pride! WHAT: Blerd City Con 2019 WHERE: St. Francis College 180 Remsen St. (Brooklyn Heights,) Additional locations To-be-announced
WHEN: Friday, July 12 – Sunday, 14, 2019
WHY: Celebrate the Nerd in You!
WHO: Some of the most renowned, accomplished, and critically acclaimed presenters within the
Blerd community: Sheree Renée Thomas, Tim Fielder, Michelle Materre, Floyd Webbs,
Ryan Sands, Warrington Hudlin and Regine Sawyer.