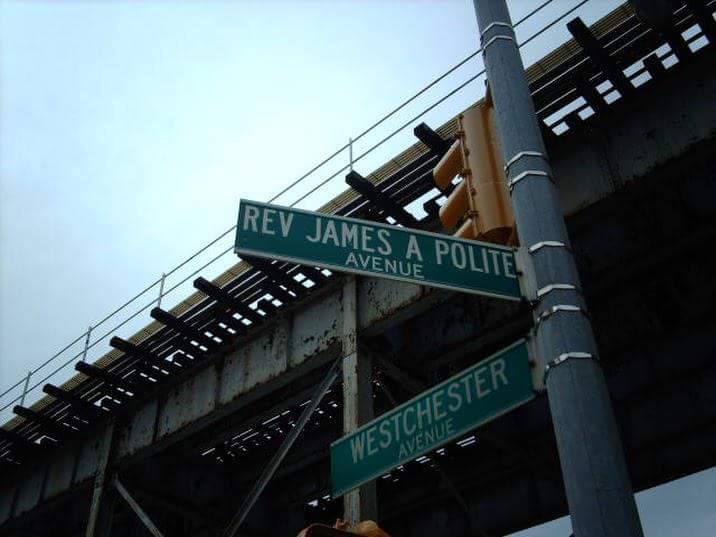 Good morning, everyone! As some of you may know, many of the articles you see on this site are prompted by comments on my social media spaces. The picture you see above is of a street sign for Reverend James A. Polite Avenue, and it is the cover photo on my Facebook page. More than a few people have asked me who this person is, and if we are related. The answer is yes, and I would like to go a little further. This wont be a complete history, as there are things that I still don't know. To explain who Reverend James A. Polite is, I have to go into some family history. Reverend Polite is my great uncle, or to put it another way my grandfather's brother.
James Arthur Polite (1899-1980) was the pastor of Thessalonia Baptist Church in the Bronx for over 40 years. Born in Beaufort, South Carolina, James was one of four Polite brothers who migrated to New York. James, moved to the Bronx, while his brother Henry (my grandfather) chose Harlem as his residence. In addition to his four decades as pastor of Thessalonia Baptist Church, James was also an activist who did a lot for the Bronx community. He was a member of the NAACP, and was so distinguished in his missionary work, that he was invited to the independence ceremony of Guyana in 1966. He was also a part of the Progressive Baptist Conference.
Due to all of his work in the community, James Polite was fondly remembered in the South Bronx. He passed in 1980, and to commemorate him, Stebbins Avenue was renamed back in 1981. Late last decade, I wrote the Bronx County Historical Society for information about the street renaming. It turns out that there was an article in the New York Times about it.  In addition to this renaming, Reverend Polite also had a playground named after him, and Thessalonia Baptist Church has a community center as well.
This picture at the top of this post was taken when my mother took me to visit Reverend James A. Polite Avenue a few years back. She wanted me to know the family history. Something for which I am grateful. I do know that Reverend Polite had a son, who I have not met. While it is a point of note that this is a prominent part of my family history, I yet and still have decided to make my own way. My literary pursuits are my way of adding to the legacy of the Polite family in New York. If you are interested in knowing where I got my information from, here are some of my sources:
"More and More Streets Get A Change but in Name Only" by Edward A. Gargan, New York Times, May 1982
History in Asphalt: The Origin of Bronx Street And Place Names, John McNamara
Until next post.. Peace!