This past Wednesday, ImageNation hosted the 2016 Revolution Awards. I was fortunate enough to attend the awards, and view the two films that were premiered afterwards. As mentioned in a previous post, the Revolution Awards were about honoring achievers in film, academia, and activism in our community.
In reflecting on the occurrences of that evening, I feel as though it would be best described as a recognition of Black excellence. In addition to witness the presenters make historical connections between the Black Panthers and Black Lives Matter, I saw some great performances too.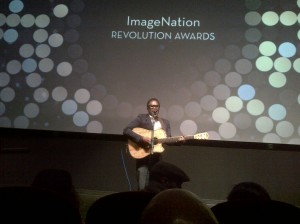 Musician Jeremy James opened the show with a few guitar numbers. Very uplifting material. Then, we were treated to a few announcements around the future intentions of ImageNation, including the forthcoming Soul Cinema.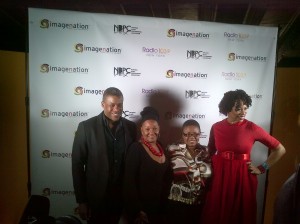 Before the show, I snapped a few pics from the red carpet. It was really packed at one point, so I soon decided to move on to the snack table. Why lie? Nonetheless,seeing my way to my reserved seat, I struck up conversation with two CCNY students who were also in attendance.
The two films we all saw were "The Cycle" produced by Sway Calloway a piece about police and their interaction in the Black community, and "1982" a film directed by Tommy Oliver about the troubles of a Philadelphia family. Both of these films were powerful, and show the complexities of life in urban settings. While I did not stay for the Q&A session at the very end, I must say that it was a good event. Between me seeing Michonne as a fan of The Walking Dead, and witnessing genuine support and affirmation of our own talents, the Revolution Awards was a showcase of the established, and emerging achievers.