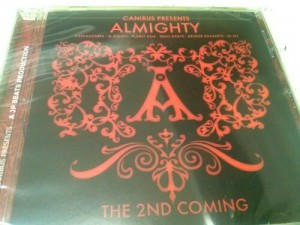 For a rapper who was ridiculed so much last summer, Canibus has made a pretty good effort at putting it past him. The lyrical analyst returns to the rap game with a compilation, featuring rap artists from the underground and the underappreciated part of the game. Almighty: The Second Coming is a 17 track collection of songs featuring Canibus prominently along with Cappadonna of the Wu-Tang Clan. Planet Asia, Kurupt, and Crooked I make up the West Coast contingent, while Killa Priest, Chino XL, Tragedy Khadafi and Busta Rhymes bring that raw late 90's/early 2000's vibe to the records they are featured on.
Masta Killa has his signature emotionally detached, but sick flow. Planet Asia still sounds good, and Vinnie Paz does his thing too. The only features on this album I did not care for were M-Eighty. The guy doesn't have a flow, and his mic presence leaves something to be desired. Nino Graye is okay, but he spit nothing I would want to listen to on a stand alone track.
Canibus as I said before is featured prominently, and checks in solidly with the bars he is known for. On the song "Espionage" he spits "Androids dream of electric sheep , while all phone communications intercepted by the beast." Obviously, he has been paying attention to events of the last few months.  In addition to name checking World War Z and opining about GMO's, there is no deviation from his conspiratorial, scientific subject matter. The standout tracks are "F.A.M.", "Super Ninjas", and "American Dream" (remix)
With all this said, this joint is a three star album. Not necessarily a bad thing. It would have been a much bigger deal if it had happened years earlier. Its an album for the heads, and wont get play beyond that.
Related articles